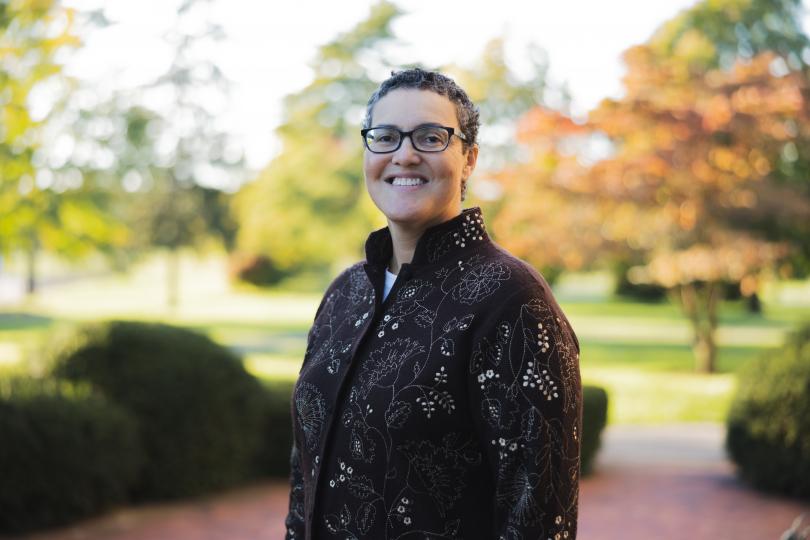 Note: Anastasia Curwood, author of "Shirley Chisholm: Champion of Black Feminist Power Politics," and Peter Kalliney, author of "The Aesthetic Cold War: Decolonization and Global Literature," at 7 p.m. Wednesday, Feb. 1, at Joseph-Beth Books in Lexington.  
By Richard LeComte 
LEXINGTON, Ky. -- When Shirley Chisholm (1924-2005) became the first Black woman to serve the U.S. Congress, she helped change how the chamber was run and contributed to bringing sides together to pass legislation. Her background in education — and her ability to see bills from different angles — gave her the skills and the boost she needed to represent her Brooklyn, New York, constituency effectively. 
"Chisholm was not just Black. She was not just a woman. She was both," said Anastasia Curwood, Professor of history in the College of Arts & Sciences at the University of Kentucky. "She recognized these intersections, and she recognized the importance of putting coalitions together. She knew that people are stronger and in numbers, and if they hang together, they can bring more pressure. She learned where the power is and where the pressure points were." 
That's one key point in Curwood's new book, "Shirley Chisholm: Champion of Black Feminist Power Politics," which was published in January by the University of North Carolina Press.  Curwood, who also is the director of the University of Kentucky Commonwealth Institute for Black Studies, traces Chisholm's development as a politician from her days growing up hopping between Brooklyn, where she was born, and Barbados, where her mother and her father's family originated. Early in her career, Chisholm studied education at Brooklyn College and earned a master's at Columbia University, eventually entering politics as a New York state assemblywoman in 1964. In both the state legislature and Congress, she earned a reputation for hard work and deep dives into policy. 
"When they were in session, she stayed up late, doing her homework, reading those bills," Curwood said. "She was surrounded by stacks of stuff that she had to read, and she did it. And then she could teach other people about the issues. She could say, 'Well, this is what you might think, but here are the real implications of these measures.'" 
When she entered the House, in 1968, she started moving up through the ranks of assignments, eventually landing on the Education and Labor panel as well as the all-powerful House Rules Committee.  
"Eventually she became powerful on Education and Labor because Carl Perkins — from here in Kentucky — really respected her and put her in charge of the conference committee for the 1971 Comprehensive Child Development bill. The bill never became an act because President Nixon didn't sign it. But it would have allowed for universal childcare.  
"She worked through her alliances. She had her staff. Her staff could go to other staffers and do their own networking. I guess we'd call it retail politics now in terms of connecting with individuals.  She would do retail politics on Capitol Hill. She would go visit colleagues, or she would have them visit her. Some of the more conservative members didn't want to be seen entering or leaving her office." 
Curwood also explores Chisolm's 1972 presidential bid. The congresswoman didn't get far past the Florida primary, but the fact that she was the first Black woman running for the ticket of a major party had a tremendous impact, and she intended to form a coalition to influence the Democratic Party platform. 
"She did say somebody had to go first," Curwood said. "Her impact shouldn't be underestimated on  
women and Black people, and especially Black women and girls. They saw her running, and they saw new possibilities for themselves." 
For her research, Curwood used some limited archives at Rutgers University as well as extensive interviews with surviving members of Chisolm's inner circle, including her sister. Curwood also has been following an extensive book tour that has taken her to bookstores in the Northeast, including the famed Politics and Prose in Washington, D.C. Curwood said her own parents worked on Chisholm's presidential campaign in Massachusetts, so she has a personal connection to the congresswoman. Today's students can see Chisholm as an example of a politician who brought her own humanity and skills to the pursuit of justice through the legislative process. 
"You can be a human and still be a hero," Curwood said. "In fact, you must be human first before you can be a hero. You need to work your own humanity into working for the cause of justice."