UK Linguistics Third Annual MLK Colloquium: Human rights, indigenous rights, and the current crisis at the border
kda226
Thu, 01/10/2019 - 08:47 am
In honor of the memory of Dr Martin Luther King, Jr. and the United Nations International Year of Indigenous Languages, this talk highlights the place of attitudes towards indigenous languages in the formation and reproduction of the human rights violations seen in recent events involving Central American immigrants seeking refuge in the United States. In 2018, two children died in the Border Patrol custody and a Border Patrol agent shot a young woman in the head. All three were native speakers of indigenous (Mayan) languages from Guatemala. The talk will first outline the history and current state of the issues behind the current immigration by Guatemalan Maya. The central role of language in the creation and current perpetuation of human rights violations will focus on two related factors. The first issue is that of language access. The denial of language access is sustained through negative attitudes towards indigenous languages and the persistent myth of the "desperate need" for indigenous interpreters. The second major issue is the failure to recognize or legitimize indigenous traditions of language use needed in the interpreting context. These include the conventions for holding a conversation, expectations for who should speak in what context, and forms of politeness. Consideration of these issues suggests that equality for indigenous peoples will never be achieved unless we first come to recognize and respect the languages they speak.
Warning:  to accurately present reality this talk contains graphic content.
Location:
UKAA Auditorium, WTY Library
Linguistics seminar series: Ashley Stinnett
sgr252
Fri, 01/26/2018 - 10:21 am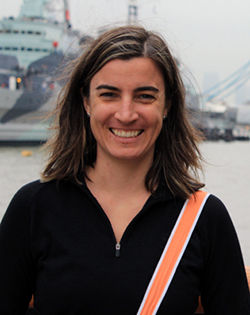 Ashley Stinnett, is an assistant professor in the Department of Folk Studies and Anthropology at Western Kentucky University. She received her Ph.D. from the School of Anthropology at the University of Arizona. Her areas of specialization are linguistic anthropology with a sub-specialty in applied visual ethnography and educational documentary filmmaking. Her research primarily concerns the sociocultural and linguistic processes in which locally centered, historical and traditional knowledge specific to food are realized and put into daily practice. Ashley researches language production in communities of practice in occupational settings and community driven efforts, specifically related to food production. Additionally, she partners with local community organizations utilizing applied anthropological approaches while synchronously incorporating visual anthropology methodologies in both the practice and the production of visual media materials. Her primary research focuses on language practices of heritage butchers in the Southwestern United States. Her most recent project utilizes linguistic and sensory ethnography in a focus on food fermentation.
Location:
Niles Gallery, Lucille Little Library
Type of Event (for grouping events):
Chinese Teacher Certification Scholarship Applications
shdubr2
Wed, 01/24/2018 - 10:51 am
New for 2019
In conjunction the College of Arts and Sciences, the MATWL program is pleased to offer substantial financial support for U.S. students who are seeking teacher certification in Chinese.
Eligibility
Eligible applicants
Language Talk - Episode 17
In Language Talk #17 Laura Roche-Youngworth speaks with the director of the annual Kentucky World Language Association Showcase, Lydia Kohler, and the chair of one of the host departments at the University of Kentucky, Jeanmarie Rouhier-Willoughby. They discuss plans for the event on the UK campus on March 25, 2017, from student competitions to the professional fair and other cultural events at the Showcase. For more details on the KWLA Showcase, visit kwla.org/showcase or contact Lydia Kohler at showcase@kwla.org
mrfo225
Wed, 01/25/2017 - 03:15 pm
CESL Stars: Reem Basaqr
The Center for English as a Second Language (CESL) cesl.uky.edu
Anonymous (not verified)
Fri, 04/01/2016 - 12:18 pm
CESL Student Awards Ceremony (Fall 2015)
Anonymous (not verified)
Tue, 02/09/2016 - 02:55 pm
CESL Stars: Moise Djigbenou
Moise Djigbenou came to Kentucky from the Ivory Coast in December of 2000. At the University of Kentucky, he studied electrical engineering with a specialty in electronics, mechanical engineering, technological engineering, and math. He now works at Big Ass Fans in application engineering.
Anonymous (not verified)
Wed, 11/18/2015 - 03:48 pm
CESL Stars: Nobuko Patton
Anonymous (not verified)
Thu, 09/24/2015 - 10:11 am
Language Talk - Episode 5
Our fifth Language Talk: KWLA podcast, News and Updates for the 2015-16 School Year, features host Laura Roché Youngworth discussing upcoming events sponsored by the KWLA with President Sarah Meredith and President-Elect Lucas Gravitt. Topics include the KWLA conference in Louisville, KWLA opportunties for professional development and advocacy, plans for the World Language Showcase, and classroom techniques.
Anonymous (not verified)
Thu, 08/13/2015 - 05:01 pm
Subscribe to language