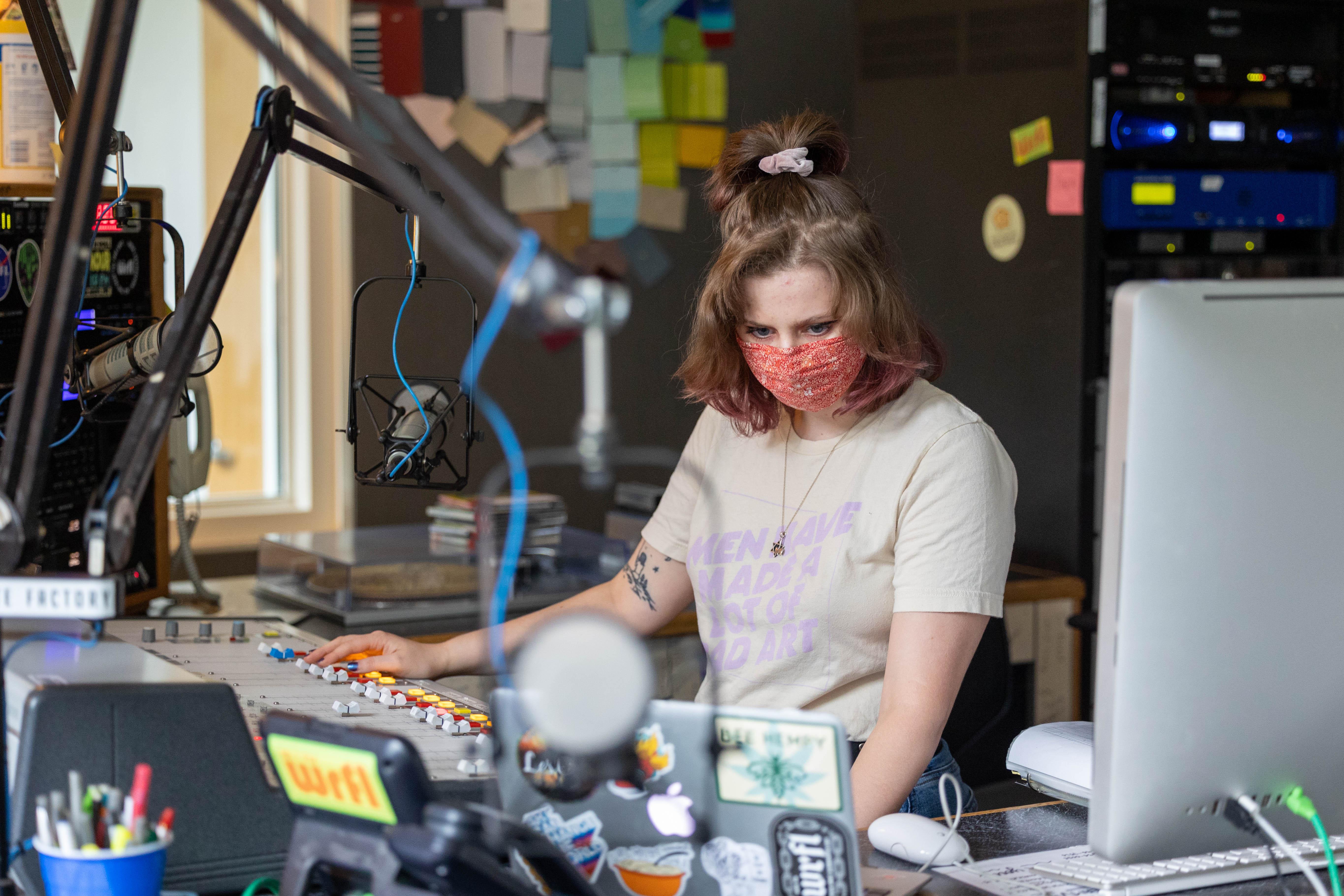 LEXINGTON, Ky. – If you've never heard of the bands the Sunmates, Frigidkitty, Whalerus, Cindy or Please Save My Earth, don't worry – Rae Bandy has you covered. From inside the studios in WRFL in the University of Kentucky's Gatton Student Center, Bandy is giving attention to these and other bands as the station's local music director.  
"I actually have a few different shows on WRFL right now," said Bandy, a senior History major with a minor in Jewish Studies in UK's College of Arts & Sciences. "The one show that I run as local music director is called 'WRFL Live,' and that essentially entails organizing little mini-concerts and interviews for local bands where they can come on the show." 
Bandy's interest in music dates all the way back to grade school, where she sang mainly classical music in choirs around her hometown of Dacula, Georgia. But when she came to UK, she decided to branch out; her move into popular music shows how much is wildly possible on campus. 
"So that was about eight years of doing choir and eight years of being really invested in music," she said. "But when I got to college, I decided that I kind of wanted to change up in the way that I interacted with music. I saw an event for WRFL, and I immediately fell in love with the station. That immediately became a way that I was able to expand upon my music tastes and learn even more about music in a way that would be beneficial to me even outside of choir." 
During the pandemic, the WRFL DJs weren't allowed to use the extensive collection of CDs and LPs; they had to rely on MP3 files, and Bandy recorded her shows at home, including a show called "Lipstick Is Optional." That show is still running on WRFL.  
"I was recording my show with Adobe audition using the music that I had in my personal library and in the station library," she said.  "I would send that in a day before my show was to be aired and then they would put it in the queue." 
But she's back in the studio now, and she often takes requests and tips off the WRFL phone line and email. Bandy casts a wide net in looking for bands to highlight on her current show, "WRFL Live," which airs from 8 to 10 p.m. Wednesdays. She plays CDs and a lot of MP3s, which the bands are recording locally – sometimes in high-quality studios they build themselves -- and the show features a number of live performances as well. 
"I am 20, so a lot of my research is going to be on social media," she said. "I look at bands that I already know from the area and see whom they're interacting with. Also, I go on a website called Band Camp, which is focused on musicians who are trying to sell their music digitally, and I reach out to them from there if I hear a sample and like what I hear. I also have bands just email me directly, which is how I tend to get a lot of my band collections."  
One of her current favorites is Please Save My Earth, a local independent emo band named after a manga series. Lexington bands present a gamut of styles, including a relatively new genre called "dream pop" – a dreamy style of pop music that features synthesizers and has roots in psychedelia and '80s keyboard-heavy club music.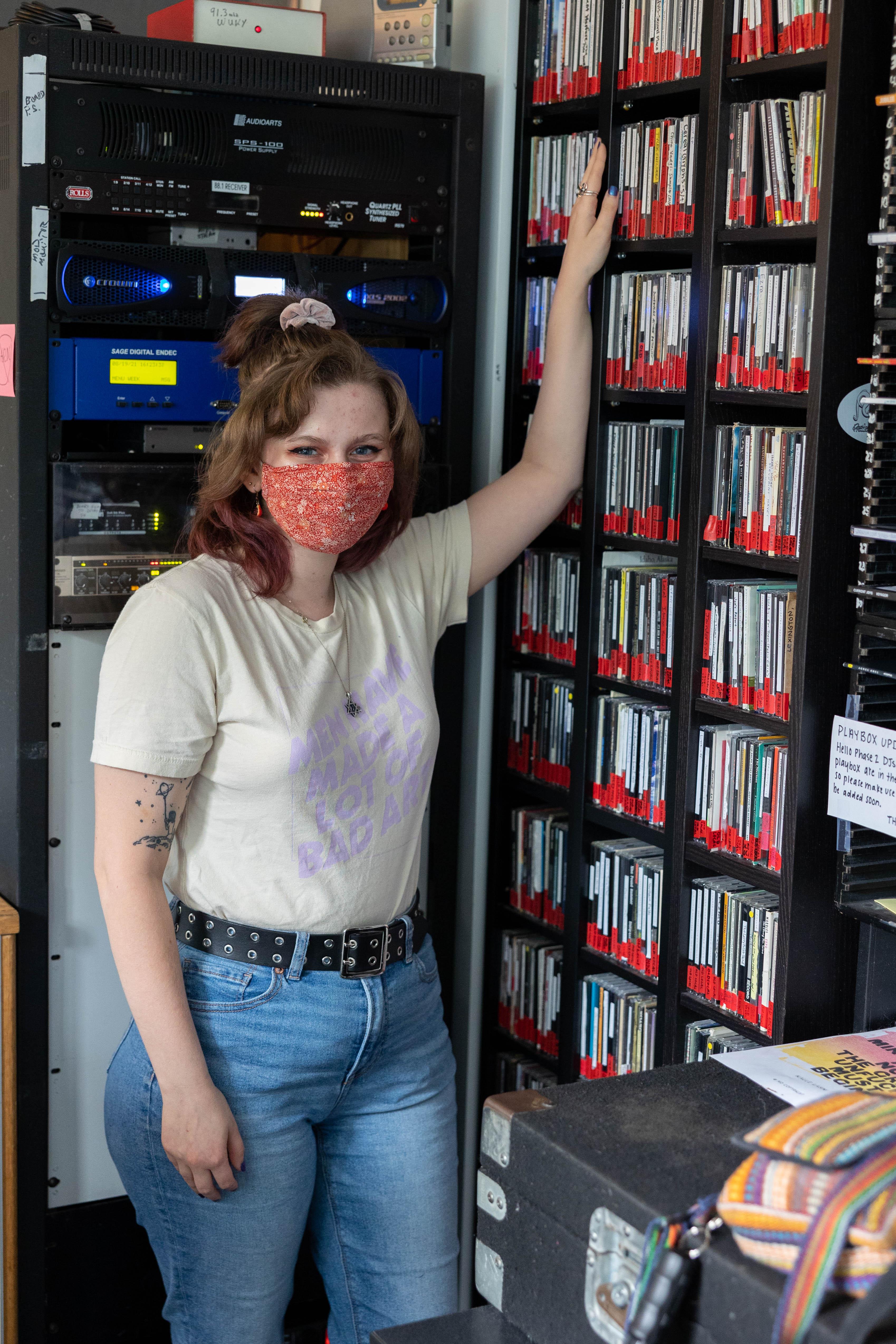 "A lot of local bands are going to be more punk oriented," Bandy said. "That's the case with Whalerus, and on occasion Cindy. But there is a surprising amount of dream pop that's coming up in Lexington, and that's really exciting for me to see. We're getting all these newer genres that we're starting to make bigger names for themselves." 
Bandy is a fifth-generation UK student; her dad, Greg Bandy is a finance graduate, and her sister, Maryann Bandy, graduated in 2017 with majors in Anthropology and Environmental and Sustainability Stuides. In fact,  everyone on her father's side is affiliated with UK, one way or another – the family is from central and northern Kentucky originally. At UK, she's studying the history of criminality: how different societies and cultures in different eras have chosen to ban and the punishments that ensue from those decisions. She's particularly interested in the history of the death penalty. 
"That's actually something that really fascinates me about criminal history," she said. "I like looking at specifically public execution, because the methods and reasoning behind it can tell you so much about the values that that particular culture or society has." 
That interest in execution led her to write a paper focusing on the Book of Esther for a class taught by Interim Dean Christian M.M. Brady; she presented the paper virtually last semester for Johns Hopkins University in Baltimore. Esther is the Jewish wife of the Persian King; she helps to save her uncle Mordecai and all the Jews in Persia from public execution by Haman.  
"That's what I looked at in my paper about the Book of Esther," Bandy said. "What were the similarities and values between the Persian Empire and the Jewish people and where did they connect? What kind of crime is deserving of taking a human life and how are they doing this? What are the methods? Because if it's something extremely public, or if they're actually taking apart the body, it's also dependent on how they actually view humans."  
Bandy's work in the area of the history of crime has drawn praise from Tammy Whitlock, associate professor of history. Whitlock praised Bandy's work on Elizabeth Bathory, the 16th-century Hungarian countess who may have killed as many as 600 girls and women. Bandy will work with Whitlock on a capstone project this spring.  
"Rae's work in my History of Crime course on Bathory displayed a keen historical analysis of a case that has so often been sensationalized and misunderstood," Whitlock said. "In her own words: 'The dehumanization of the lower class in pre-modern Central Europe not only led Bathory's violent crimes but also resulted in her lesser sentence for those crimes.' I look forward to working with her on a project that combines her interest in and understanding of the complex history of crime and punishment -- whether it be examining the overlapping influences in ancient legal codes or revealing the historical trends that help explain why a Hungarian countess became a serial murderer.  
Ideally, the project would result in a podcast or series of podcasts showcasing both her historical scholarship and talents in producing digital media." 
Meanwhile, Bandy is back in the booth at WRFL, spinning, or just playing, local bands and expanding her love of music with her new-found expertise in digital media. 
"It's really great to be able to give back to the local community, especially right now," Bandy said.  "The bands have been really suffering and not being able to do shows."