Mother's Day Is Graduation Day for Two Sets of Mothers and Daughters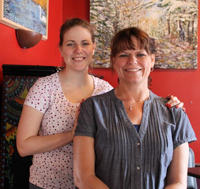 Tonya and Jackie Jones giggle like best friends over the remnants of a casual lunch. You almost feel like you're intruding in attempts to capture their attention. Mother and daughter never seem to tire of each other's company, especially considering they live together in the Jones family home in Lexington and both work part time at the Inn on Broadway downtown.
"We do everything together," Jackie Jones laughed. "And this is no different."
In this instance, Jackie is alluding to her impending May Commencement Ceremony, where she will graduate with a degree in history. Tonya Jones will have a front row seat for her daughter's graduation, as she is receiving a degree in history from UK as well.
"I refused to let her graduate before me," joked Tonya, who has attended four different schools on and off over the past 28 years to achieve her degree. "I knew I just had to get it done."
Their tenure together at UK began in the fall of 2009. Jackie graduated from Dunbar High School and then attended Bluegrass Technical Community College, before transferring. Tonya had an assortment of credits from community colleges in Bryan, Texas and Tucson, Ariz., when she decided to go full time at UK that semester as well.
"My husband calls me a gypsy, but I just think I'm adventurous," said Tonya, who will be graduating with 136 hours. "I really just took classes that interested me, wherever we were living."
Tonya and Jackie have had at least four classes together while at UK, which they especially enjoy. "You really don't have to get to know a partner for group projects," said Tonya. "We live together and were recently told that we have the same mind. That makes things pretty easy."
 
They will admit that their side conversations in class might have annoyed history professor Tracy Campbell in their final semester. "He had us for two classes, and I think he'd had about enough," said Jackie. "But we can't help it!"
Jackie, who hopes to pursue a career in public history or museum studies after graduation, credits her persistence in school and in life to her mother. "People tell me I have more drive than a car, and I really owe it all to my mom," Jackie said. "She has worked so hard for her degree, but also for our family, and I know that she'll support me in anything that I want to do."
Tonya feels the same way about her daughter. "I really didn't want to take this away from Jackie, who's graduating with honors and a 3.8 GPA in her own right," Tonya said. "I am so proud of her."
This final year has been especially busy for Tonya, who took on a second part-time job at the Doubletree in Lexington to make ends meet, working 40 hours between both hotels on Fridays, Saturdays and Sundays, which free up the school week for classes.
"This year was tough," Tonya admitted. "But if you work hard and set your goals high, you can do it. I've always had to work around school."
Tonya's diligence in getting her degree has been a family affair, as 13-year-old daughter Holly and husband, Dwayne, don't always get to see Mom as much as they'd like.
"Sometimes my dad will just say, 'I miss Mom,'" said Jackie. "He's been so supportive throughout all of this, but I think he's ready to have her back." 
The lessons of Tonya's decision to finish her degree have also stoked the family's strong belief in higher education. When Tonya and Dwayne graduated high school, they both went straight to work. "There was an oil boom in Texas, and you could make a ton of money right out of school," Tonya explained. "But the bubble burst, and where did that leave us?"
The Jones children know that school is 16 years. Not 12 years. "You're not done when you graduate high school," said Jackie. "Education is a family effort. We all pitch in."
Tonya has also gained a better understanding of why non-core courses are required for a degree. "I have always wondered why I needed classes like philosophy and political science," she said. "But now that I've done it, I realize that you can study history in everything."
Tonya and Jackie are looking forward to a celebratory weekend, with Commencement on Sunday and going to Keeneland for the Kentucky Derby on Saturday.
"We're not usually the type to hog the attention, but Derby Weekend is our weekend," laughed Tonya. "We'll be dressed up, with family and friends. It's going to be about us."
And just like that, the sisterly pair falls back into conversation, like they were never interrupted.
 
It's All in the Family, Part 2
UK is home to at least one more graduating mother-daughter duo this May. Debbie Montgomery Savage and her daughter, Kasey Hall, of Lexington, both found their own path to campus and will graduate this weekend with degrees in art studio and architecture respectively.
After finishing high school, Kasey Hall started at Lexington Community College (now Bluegrass Community and Technical College) in the spring of 2004, while pregnant with her first child, Alexia. After two years of study, she transferred to start a dual degree in interior design and marketing. Hall switched to architecture after completing three years of study in interior design. In December 2008, she delivered her second daughter, Gabrielle, on the weekend before her finals and didn't miss a single exam. While balancing her parenting duties and studies, Hall has been able to maintain a 3.55 grade point average on her road to graduation.
Savage's studies at UK started in 1973, but would take a longer and more winding path to graduation. After only one year of studies, she left school to get married with the hopes of returning to school at a later date. But, as with so many people, life took over. Just as Savage hoped to return to campus as her daughters started elementary school, her father was diagnosed with cancer and she would take on the role of primary care giver in the family.
"Life just started getting in the way, and there never seemed to be a good time to return," says Savage.
Life continued to place hurdles in front of her, as she went through divorce and leaner financial times. But a new union helped her find her way back to UK.
"In 2003, I remarried," explains Savage. "One fall evening in 2007, my husband and I were having dinner and began to talk about regrets. I told him the only real regret I had in my life was not completing my college education. His response was 'What's stopping you now?'"
With her husband Allan's encouragement, Savage returned to UK in spring 2008. A former owner and operator of a residential construction company, she intended to study architecture but missed the deadline to enroll in the program. Savage decided to go on and take a course in drawing, and it was there that a younger classmate asked her to join her in a photography class.
With a new passion in hand, and the realization of how long it would take to become a practicing architect, Savage decided to pursue a major of art studio specializing in digital media and a minor in art history. The new path has already led her to a high-profile gig.
"This fall and spring I was able to shoot photos in the Lincoln Center for New York City's Mercedes Benz Fashion week and it was thrilling," says the art student.
While Hall and Savage have not shared a classroom, they have been there for each other through the whole experience. Whether it is meeting to drop off children, holding parking spots for one another at the Hilary J. Boone Center, or helping one another with class projects and technology, both know the other is there for support.
"It has been a crazy, hectic three+ years but worth every second," says Savage. "I cannot speak for her (Hall), but I think she will agree it was worth all the hectic times, and tears at times. For me, it has enriched my life in ways I never imagined! I have made so many friends my daughters' ages.  I have had some wonderful and brilliant teachers that I can call friends as well."
After receiving their diplomas this Mother's Day, these two moms already have plans for the next chapter in life. Savage plans to pursue freelance photography and Web design, while Hall plans to eventually head back to the classroom for a master's degree in architecture once she can afford it. Until then, Hall and her mom may team up again to market one of her promising architecture projects, and they will make time to root on Hall's older sister Shannon, a pediatric nurse at the Kentucky Children's Hospital's Makenna David Pediatric Emergency Center, as she continues to pursue her graduate studies as a nurse practitioner at the university.  

The Lexington Herald-Leader has also featured these graduates in a story; to read it, click here.
by Erin Holaday Ziegler and Whitney Hale