By Richard LeComte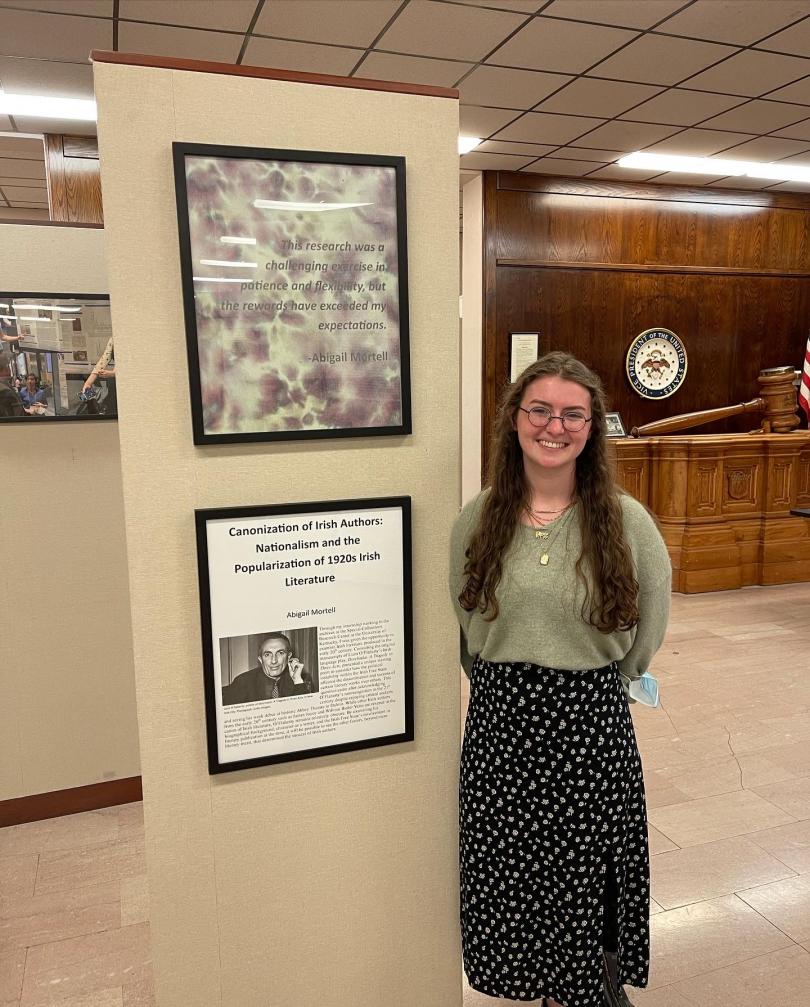 LEXINGTON, Ky. -- History can be as exciting as live drama, as Abigail Mortell has found. Mortell, a recent University of Kentucky history major and Lewis Honors College student, took her research into the history of indigenous peoples in Brazil and turned it into a play, which received first place for Humanities: Creative in the annual Oswald Research and Creativity Competition in UK's Office of Undergraduate Research.
The play, "Surviving the Sertão: A Play in Two Acts," originated as a creative assignment in a class taught by Erik Myrup, associate professor of history.
"I submitted a play in two acts, which has a historical basis, but it's also fictional," Mortell said.  "I intended to provide the historical perspective from the native side, which we don't actually have in real life. But it had to be rooted in the historical sources that we do have. I worked with the memoirs of Hans Staden, a man who was captured by the Tupinamba people in real life in the 16th century. I based part of the play on that, but then I also provided a native voice that is absent in our historical record to shed light on the fact that most accounts are purely from the European perspective."
Without intending "Surviving" to be produced, Mortell was free to create a series of scenes that depict Staden's experiences as a German mercenary working for the Portuguese in Brazil. At first the Tupinamba people looked on him as an enemy tied to Portugal, but he apparently won over the group by acting as a translator. Staden was something of a political football for the Tupinambas: They contemplated executing him, but eventually he gained their trust, escaped and headed back to Germany. His own record of his experiences — and Mortell's research into the Tupinamba people's side of the story — make for high drama.
"I took a bit of creative liberty knowing that I didn't have to produce it," said Mortell, who graduated from Woodford County High School in Versailles. "Some of the scenes, if I were to stage it, would have to be altered. There is a scene where the tribal leader and the three men who helped him capture Hans are sitting around a fire. How you'd stage that would be a lot different."
This year, Mortell also won first place in the Oswald Humanities: Critical Research category for her paper "Canonization of Irish Authors: Nationalism and the Popularization of 1920s Irish Literature"; on that project she worked with Carol Street of the UK Libraries Special Collections Center. And in May, she received the College of Arts & Sciences History Department's Robert M. Ireland Essay Prize for her paper "Dickinson College: How a Denominational Institution Provided Civic Education in the Early American Republic." Her adviser was Jane Calvert, associate professor of history. With support from the Lewis Honors College, Mortell presented "Dickinson" at Johns Hopkins University's National Undergraduate Humanities Research Symposium in Baltimore. Her undergraduate thesis examined the pedagogical theories of John Dickinson, one of the members of the Continental Congress.
"I came in as a history major because I liked history, not because I wanted to be a historian," she said. "Once I learned what historians actually do, I thought, wow, that's so cool. It's given me great appreciation for what I have learned, but also what I have yet to learn. It has been a humbling experience coming to the end of my bachelor's degree. I'm reminded of how much I still have to know. But that's like more exciting, because I think I've been given the tools to navigate those areas."
Mortell's interest in the history of the Americas coincides with her curiosity about world history in general, as shown by the breadth of her research. Mortell originally is from County Cork in Ireland. The equestrian industry in Kentucky drew her family to the United States in 2011.
"I'm either reminded of the fact that or I think of the fact that I'm from Ireland every day," she said. "It's definitely prevalent in my life still. But I was 10 at the time we came, so I was young enough to become a bit more acclimated."
Her "Canonization" paper looks at an Irish playwright named Liam O'Flaherty; the manuscript for his play "Dorchadas: A Tragedy in Three Acts," resides in UK's Special Collections. During her time at UK, Mortell interned with the Special Collections Research Center Learning Lab. She presented the paper at the World Congress on Undergraduate Research in April, and it was published in Johns Hopkins University's Macksey Journal. Despite the surge in Irish nationalism and literature in the 1920s, O'Flaherty missed out on becoming a household name like James Joyce or William Butler Yeats, mainly because of censorship.
"I used that as a springboard to look at censorship in the early Irish Free State," she said. "O'Flaherty's rocky history with the Roman Catholic Church; his involvement with Margaret Barrington, the wife of Professor Edmund Curtis of Trinity College; and his divisive portrayal of Irish people hindered the popularization of his work in the precarious state of Irish society."
Since graduating in May, Mortell returned to Ireland to visit her my family. In mid-August, she begins working full time as assistant editor of the John Dickinson Writings Project, which is responsible for collecting, editing and publishing Dickinson's letters and manuscripts. Her thesis adviser, Jane Calvert in the UK History Department, is the director and editor of the project.
"I worked for the project as a transcription intern for two years as an undergrad, so I am thrilled to rejoin the staff and gain experience in historical research and documentary editing," she said.  
Mortell's research and the many opportunities she found at UK demonstrates what students can achieve in a stimulating academic environment.
"At UK, I think first and foremost, I learned what it really means to be a historian," she said. "That wasn't something I was privy to in high school. UK gave me the opportunity to dedicate so much time to learning. Someone once asked me what I would do if money were no object. I said I would just like to sit in a room and read and write for a living. That would be great."