Erik Myrup Recognized for Advising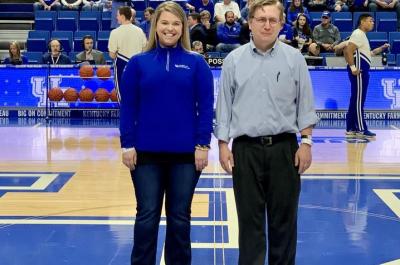 By Ryan Girves
At Saturday's University of Kentucky basketball game, winners of the Ken Freedman Outstanding Advisor Awards, Beth Hanneman and Erik Myrup, were honored on the court, acknowledging their role in fulfilling the teaching and learning mission of the university.
Each year, the Ken Freedman Outstanding Advisor Award is presented by the UK Advising Network to one full-time professional adviser and one faculty adviser for outstanding service. Ken Freedman, the award's namesake, was one of the founders of the UK Advising Network in 1986 and served as a professional adviser at UK until his death in 2001.  
Both Hanneman, from the Stuckert Career Center, and Myrup, College of Arts and Sciences, received many nominations from across campus, citing their willingness to go above and beyond for their students and the university.