At the University of Kentucky's 146th Commencement Ceremonies A&S alum Robert Milton Huffaker was honored with an honorary doctorate degree. The following was read at the ceremony in honor of his degree:
Robert Milton Huffaker, a native of Wayne County, Kentucky, has spent more than a 
half century in a varied and distinguished career as a physicist, a company founder and 
CEO, and a philanthropist positively impacting a number of charitable activities and 
organizations in the United States and abroad.
After earning his Bachelor of Science in physics at the University of Kentucky in 1957, 
Huffaker pursued graduate studies at UK before accepting a position at NASA's 
Marshall Space Flight Center where he worked for 15 years beginning in 1961. He rose 
to become chief of the Physics Section and project manager, directing programs in 
specifying the thermal environment of the Saturn launch vehicles, as well as areas in 
lunar physics involving re-entry fluid mechanics. Later, Huffaker initiated and directed 
the development of laser Doppler systems for aerodynamic applications. 
Huffaker moved to the National Oceanic and Atmospheric Administration as project 
manager In 1976,. During his eight years at NOAA, the design of space-based systems 
for global wind field mapping was established. And, the first ground-based, threedimensional wind field measurement system was developed using coherent laser radar 
technology.
I
n 1984, Huffaker founded Coherent Technologies, Incorporated (CTI) to develop 
Doppler laser radar technology and systems for meteorological and military 
applications. CTI pioneered numerous achievements in coherent laser radar and over 
the next two decades, grew at an average rate of 30 percent per year before being 
acquired by Lockheed Martin Company in 2005.
In 2006, Huffaker founded Coherent Investments, LLC, where he serves as manager. 
Coherent Investments provides guidance, support, and capital in order to assist 
companies that are in their early stages of development.
The recipient of numerous awards, Huffaker was inducted into the UK College of Arts 
and Sciences Alumni Hall of Fame in 2008. He has been a prolific contributor to the 
advancement of the field of physics, with many highly regarded and well-read scientific 
publications and papers. 
Always eager to help others, Huffaker co-founded the Second Step Program of the 
Emergency Family Assistance Association in the mid-1980s. The Colorado resident 
also is founder and chair of the board of the Forward Steps Foundation, a public charity 
which supports the population of youth between the ages of 18 and 21 emerging from the Colorado Foster Care System. In addition, he is founder and chair of the Realizing 
Aptitudes Foundation that assists high school and beginning college students with 
career guidance. While devoting his time and sharing his expertise in these various 
efforts, Huffaker also has donated well over $3 million to these and other nonprofit 
agencies.
Robert Milton Huffaker is recommended for an honorary Doctor of Science degree from 
the University of Kentucky.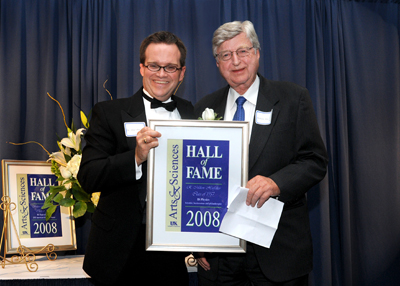 Photo: Robert Milton Huffaker being inducted into the College of Arts & Sciences Hall of Fame in 2008.