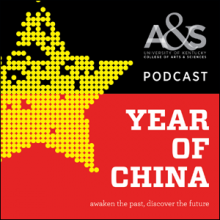 Since 2010, the Chinese Studies program at UK has taken groups of students to Shanghai University in the summer for a 6-credit Conversational Chinese course. Liang Luo is a professor of Chinese culture and language, and has accompanied two of these groups to Shanghai. The group that went this summer also participated in the Shanghai University & UK Student Summit, part of the programs that the American Studies Center has brought to Shanghai this year. 
For more information about study abroad programs at UK, please visit uky.edu/educationabroad.
This podcast was produced by Cheyenne Hohman. 
 

This work is licensed under a Creative Commons Attribution-NonCommercial-ShareAlike 3.0 Unported License.