Don Pedi playing John Salyer's "Rose in the Mountain" at the Hindman Dulcimer Homecoming, in Hindman, Kentucky. A transcript of this video can be seen here.
by Jordan Mason
(Dec. 4, 2014) — You could say they left the best for last, as master musician Don Pedi performs the final concert in the 2014 "Appalachia in the Bluegrass" concert series. Pedi, known for his skills on the dulcimer, will perform noon Friday, Dec. 5, at the Niles Gallery, located in the UK Lucille C. Little Fine Arts Library and Learning Center. The concert is free and open to the public.
Pedi comes from a musical family. On weekends his grandfather would open up his home as a gathering place for family and friends to share good food, fellowship and live music. Pedi, who first saw the dulcimer being played on a Boston coffee house stage, draws his musical influences from many artists, including Almeda Riddle, Frank Proffitt and Richard Farina.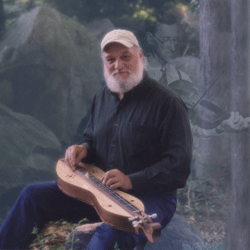 A Chelsea, Massachusetts native, Pedi now resides in Western North Carolina. In 1966, the musician was traveling from place to place with Cambridge, Massachusetts, as his home base. While there, Pedi met Tad Wright and Keith Zimmerman, a couple of musicians from Asheville, North Carolina. After hearing him play, the duo asked him to join them and Pedi agreed.
Since then, Pedi has lived close to or in Asheville, performing widely with fiddler Bruce Greene. He is a virtuosic dulcimer performer who draws upon traditional old-time music to inform his style and repertoire. His most recent recording is "Stranger on a Mule" with Greene.
The "Appalachia in the Bluegrass" concert series celebrates the old-time roots of American folk music by featuring a diverse range of traditional musical expression. The concert series will showcase 13 different artists, duos and groups from southern Appalachia ranging from artists straight off their front porch to those who have earned international acclaim. The concert series is presented by the John Jacob Niles Center for American Music, a collaborative research and performance center maintained by the UK College of Fine Arts, UK School of Music and UK Libraries.
For more information on the "Appalachia in the Bluegrass" concert series or the concerts featuring Don Pedi, contact Ron Pen, director of the Niles Center, by email to Ron.Pen@uky.edu or visit the website.