by Whitney Hale
(Jan. 28, 2014) — Renowned chemist, novelist and playwright Carl Djerassi, known for his work in organic chemistry and as a father of insect and human birth control, will take part in several events being held Feb. 13-15, at the University of Kentucky.
During his visit to the Bluegrass, Djerassi will participate in three events. He will first serve as the featured speaker at a luncheon for business and academic leaders. The talk, "Academic Entrepreneurship: Facts through Fiction," will feature his perspective on academic-business relationships in science and technology and will be followed by a question and answer session. The luncheon will begin at noon Thursday, Feb. 13, at the Hilary J. Boone Center. Cost for the luncheon is $30 a plate. Space at the luncheon must be reserved by Feb. 5 at Sylvia4H.art@gmail.com.
Later that afternoon, Djerassi will present a free public lecture titled "Science on the Page and Stage." The lecture will begin at 4:30 p.m. Thursday, Feb. 13, in Worsham Theater, located in theUK Student Center. The first 100 students to arrive will get a free copy of "Chemistry in Theatre: Insufficiency, Phallacy or Both" or "Sex in the Age of Technological Reproduction" and will have the opportunity to get it signed by Djerassi after his talk.
On Feb. 15, Djerassi's work as a playwright will be in the spotlight. Local actors under the direction of Nancy Jones, chair of the UK Department of Theatre, will present a reading of his play "Insufficiency," looking at the challenges of academic funding, relationships, tenure and cutting-edge science involving nanoparticles in the distilling industry. The free public reading will begin at 3 p.m. Saturday, Feb. 15, at the Art Museum at UK, located in the Singletary Center for the Arts. A reception with Djerassi will follow the reading.
Djerassi's visit is made possible with support from the UK Departments of Chemistry, Mathematics,Physics and Astronomy, Theatre and the UK College of Arts and Sciences in conjunction with UK College of Fine Arts, UK College of Pharmacy, UK College of Engineering and the Saha Cardiovascular Research Center.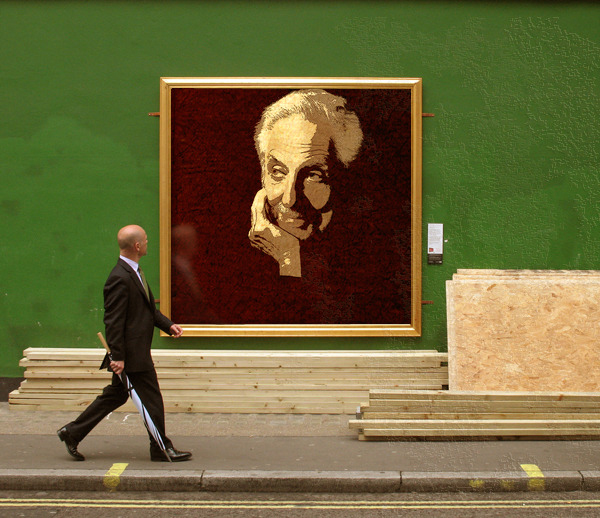 Djerassi, an emeritus professor at Stanford University, is a recipient of both the National Medal of Science and the National Medal of Technology for his various works in academic and applied chemistry. He has been writing fiction, poetry and drama since before closing his lab at Stanford at age 70. As a writer, Djerassi's "science-in-fiction" and "science-in-theatre" projects are a way for the scientist to both expose the general public to scientific ethical dilemmas and to convey the culture of scientific practice in the academy and industry to students and the general public.
Concurrent with his academic positions, Djerassi also held various posts at Syntex from 1957 to 1972, including that of president of Syntex Research (1968-1972). In 1968, he helped found Zoecon Corporation, a company dedicated to developing novel approaches to insect control, serving as its board chairman until 1988. He was instrumental in the founding and development of the Stanford Industrial Park, with several companies on campus over the years while an active full time faculty member.