by Keith Hautala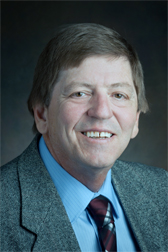 (Nov. 20, 2013) — Darrell Taulbee, a longtime scientist with the University of Kentucky Center for Applied Energy Research (CAER), was named incoming president to the Institute for Briquetting and Agglomeration (IBA) at its 33rd biennial conference, held earlier this month in San Francisco. 
Taulbee has been involved in the organization for the past decade, and has served as its vice president and a member of the board of directors.
Taulbee also was chosen to receive the institute's Neal Rice Award, established in 1979 to honor Rice, who was a founder of the institute and its secretary-treasurer from 1949-1977. The award is given to the author of the paper judged to have the most excellent technical content and presentation at each biennial conference.
CAER is a non-academic unit that is staffed by professional scientists and engineers, has extensive interactions with faculty members and students, and provides analytical services for outside organizations. CAER adds to the teaching and instruction arm of UK by educating students from pre-college to postgraduate levels and being involved in labor force development for the Commonwealth.
The IBA is a group of business and technical people interested and involved in the research, development, and production of briquettes, pellets, and other densified products, and the equipment used to produce them.