Paul Thomas Chamberlin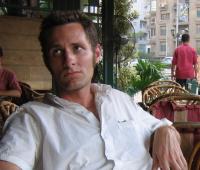 Education:
Paul Chamberlin received his PhD from The Ohio State University after studying at the American University of Cairo and the University of Damascus and has held fellowships at Yale University and Williams College. His dissertation won the 2010 Oxford University Press prize for the best dissertation in international history.
Research:
His first book, The Global Offensive: The United States, the Palestine Liberation Organization, and the Making of the Post-Cold War Order, is an international history of the Palestinian liberation struggle. It examines the PLO's creation of a broad network of support among naitonal liberation movements throughout the Third World and the implications of this support for U.S. foreign policy and the larger Arab-Israeli conflict. It will be published by Oxford University Press in 2012. http://www.oup.com/us/catalog/general/subject/HistoryWorld/British/Since...
He is currently working on a study of the bloodiest encounters of the Cold War, tentatively titled, "The Cold War's Killing Fields."
Selected Prizes and Fellowships
2010 Oxford University Press International History Prize
2009-10 Fellow in American Foreign Policy at Williams College
2008-09 Fellow in International Security Studies at Yale University
2004-07 Foreign Language Area Studies Fellowship, Middle East Studies Center, Ohio State University
Selected Publications
    The Global Offensive: The United States, the Palestine Liberation Organization, and the Making of the Post-Cold War Order (New York: Oxford University Press, 2012)
    "Rethinking the Middle East in the Cold War," Roundtable Essay, International Journal of Middle East Studies (May 2011)
    "Schoenau and the Eagles of the Palestinian Revolution: Refugees, Guerillas, and Human Rights in the Global 1970s," Cold War History (Jan. 2013)
    "The Struggle Against Oppression Everywhere: The Global Politics of Palestinian Liberation" Middle Eastern Studies, Vol. 47, No. 1 (Jan. 2011)
    "A World Restored: Counterrevolution, Religious Fundamentalism, and the Search for Order in the Middle East," Diplomatic History, Vol. 32, No. 3 (June 2008) 441-469
Current Students