Lien-Hang Nguyen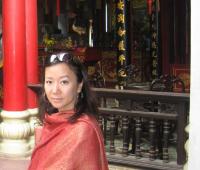 Education:
B.A., University of Pennsylvania, 1996; Ph.D., Yale University, 2008
Research:
United States Foreign Relations/International Cold War
Professor Nguyen specializes in the study of the United States in the world, with spatial focus on Southeast Asia and temporal interest in the Cold War.  She is currently working on her second book project which explores the role of gender, people's diplomacy, and transnational networks of anti-war activism during the Vietnam War era that draws on multi-archival research in Vietnam, the United States, and Europe.  
She is the author of Hanoi's War: An International History of the War for Peace in Vietnam, which won the Society for Military History (SMH) Edward M. Coffman Prize, the Society for Historians of American Foreign Relations (SHAFR) Stuart L. Bernath Prize, the UKY Department of History Alice S. Hallam Prize, was a finalist for the Berkshire Conference of Women Historians First Book Prize, and earned her an invitation to participate in the 2012 Library of Congress National Book Festival.
Professors Nguyen and Paul T. Chamberlin are the General Co-Editors of the Cambridge Studies in U.S. Foreign Relations.
b.     
Selected Fellowships:
Henry Chauncey Jr '57 Postdoctoral Fellowship in Grand Strategy, International Security Studies, Yale University, 2009-2010 
John M. Olin Postdoctoral Fellowship in Military and International History, International Security Studies, Yale University, 2008-2009
Predoctoral Fellowship, John M. Olin Institute for Strategic Studies, Harvard University, 2005-2006
Predoctoral Fellowship, Center for International Security and Cooperation (CISAC), Stanford University, 2004-2005
Fulbright Scholar, Hanoi, Vietnam, Institute of International Education, 2001-2002
Smith-Richardson Fellow, International Security Studies, Yale University, 1998-2004
Current Students
PhD students:
Bethany Sharpe (co-advisor)
Jonathan Chilcote (co-advisor)
Laura Jarboe (co-advisor)
MA students:
Kara Lambert (co-advisor)
Selected Publications:
Hanoi's War: An International History of the War for Peace in Vietnam. The New Cold War History Series. (Chapel Hill: UNC Press, July 2012).
The Wars for Vietnam, 1945-1975: An International History with Mark Philip Bradley and Robert Brigham (Boston: Blackwell Publishing, forthcoming)
Women Warriors: Gender, People's Diplomacy, and Peace in the Vietnam Era. (under research)
"1968: Negotiating While Fighting or Just Fighting?" in Guerre, diplomatie et opinion. Les négociations de paix à Paris et la fin de la guerre au Vietnam (1968-1975).  Eds. Pierre Journoud and Cécile Menétrey-Monchau (Brussels: Peter Lang, 2011): 37-49.
"The Vietnam Decade: The Global Shock of the War," in Shock of the Global: The 1970s in Perspective.  Eds. Niall Ferguson, Charles Maier, Erez Manela, and Daniel Sargent (Cambridge, MA: Harvard University Press, 2010): 310-340.
"Waging War on All Fronts: Nixon, Kissinger, and the Vietnam War, 1969-1972" in Nixon in the World: American Foreign Relations, 1969-1977.  Eds. Fredrik Logevall and Andrew Preston (New York: Oxford University Press, 2008): 185-203.
 "Cold War Contradictions: Toward an International History of the Second Indochina War, 1969-1973" in Making Sense of the Vietnam Wars: Local, National and Transnational Perspectives.  Eds. Mark Philip Bradley and Marilyn B. Young (New York: Oxford University Press, 2008): 219-249.
"Sino-Vietnamese Split in the Post-Tet War in Indochina, 1968-1975" in The Third Indochina War: Conflict between China, Vietnam and Cambodia, 1972-1979.  Eds. Sophie Quinn-Judge and Odd Arne Westad (London: Routledge Press, 2006): 12-32.  
"Vietnamese Perceptions of the French-Indochina War" in Indochina in the Balance: New Perspectives on the First Vietnam War.  Eds. Mark Lawrence and Fredrik Logevall (Cambridge, MA: Harvard University Press, 2006): 41-55.
"The War Politburo: Vietnam's Diplomatic and Political Road to the Tet Offensive," Journal of Vietnamese Studies 1, nos. 1-2 (February/August 2006): 4-55.